by artist Alan Pirie opens 12 January 6pm - Wan'din'in arts space Eumundi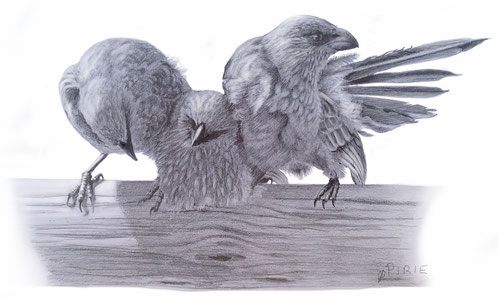 'Different Sides' will show a variety of styles and mediums by artist Alan Pirie and will be of interest to a wide audience. Alan's high level of skill and expertise is displayed in his realistic depictions of wildlife. These beautifully executed drawings have a strength that almost demands them to be studied in detail for their lifelike qualities and fineness. Alan's knowledge of his subject and his obvious skill brings to life what could easily be simply a 2D drawing, making it much more. He was recently a finalist in the Noosa Regional Gallery's 2017 Lyn McCrea Memorial Drawing Prize.
In sharp contrast to Alan's delightful drawings are his oil paintings. These are created in a surrealist style using a very strong pallet and they indicate Alan's skill and confidence in this medium. Having spent his early life in Scotland and Germany, Alan moved to New Zealand in 1994. It was in his new homeland in 1999 that he found a new direction, inspired by the vibrant colours of New Zealand. He returned to painting in oils and developed his own abstract style and says he is sometimes spiritually motivated in his paintings and allows his intuition to guide him on his journey on the canvas.
All welcome to the opening - there will be a cash bar and nibbles.  Wan'din'in is at the rear of Discover Eumundi Heritage and Visitor Centre – 73 Memorial Drive. Exhibition runs until Sunday 11 February.

Meet the Artist morning tea - Friday 19 January 10.30am to 12noon. RSVP for catering info@discovereumundi.com. Fundamentals of Drawing Workshop - Friday 2 February 10am to 1pm. Cost $40 includes materials and morning tea. To book email: alanpirieartist@yahoo.com.uk or phone 0410390438. Payment required by 26 January to hold your place.
Keep in touch with what's on at Wan'din'in arts space